Pagudpud Hotel for Sale
This Pagudpud Hotel for Sale. Like any good business, our hotel and restaurant is always available for sale at the right price and we would always welcome serious and realistic offers (please no time wasters, it's not a forced sale). Being the Number 1 rated hotel on TripAdvisor in Pagudpud is because we have a very well equipped and high class boutique hotel in a great location and with a very highly rated restaurant offering quality product to our valued guests. It's a great investment for someone who wants to continue provide high quality hospitality in a well known tourist area. We have great and well trained staff who are a valuable asset.
Pagudpud Hotel for Sale -

About the Hotel Guest Rooms
This Pagudpud Hotel for sale offers a total of 8 high quality rooms. There are 7 rooms within the main building and a separate adjacent villa room with one large bedroom. Each has its own shower and toilet with washbasin, all stylish tiled with mirror, and bathroom fittings. Each shower has a quality electric water heater. Each room has a quality flat screen TV for the cable TV. Each room has a refrigerator. Each room has an air conditioning unit. Each room has high quality custom made rattan furniture that comprises a queen sized bed with integral side tables, bedside light and 5 star hotel standard mattress. Each room also has a rattan wardrobe and a rattan/glass coffee table and chairs. The hotel rooms also have high quality bed linen sheets, quilts and covers that were specially purchased in Australia. Rooms are stylishly decorated with quality framed oil paintings. Windows come with insect screens and quality window blinds. All rooms have energy efficient lights and smoke detectors.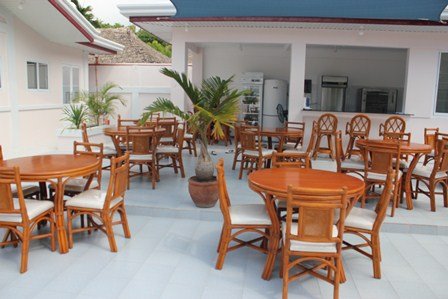 About the Reception Area and Coffee Shop
The main building comprises a coffee shop kitchen area in reception and a coffee shop dining area with high quality rattan tables and chairs. The coffee shop comprises the reception counter, a high quality Italian Rancilio coffee machine, coffee grinder, stainless steel sink and stainless steel work benches and refrigerator. The walls are decorated with stylish framed oil paintings. The area has its own air conditioning system and ceiling fans. A wide access corridor allows access to the 7 guest rooms. The building has two surveillance cameras and associated recorder and also set up for WiFi with router for internet guest access.
Pagudpud Hotel for Sale - About the Restaurant
This Pagudpud Hotel for Sale also has a very popular and highly rated restaurant that is located at the front of the main hotel building. The modern open kitchen has the highest quality commercial cooking equipment (2 deep fryers, 4 burner stove, BBQ and griddle, large Rotisserie unit) and quality drinks frig, deep freezer and frig/freezer along with stainless steel sink, and work tables and quality small appliances and cookware. The kitchen has a black marble bar and also suits those in for a drink or eating alone.
The dining area is located at the front of the kitchen and hotel, and open to the public attracting large walk-in trade for breakfast, lunch and dinner from in-house guests and also catering to the many surrounding homestay guests and also Saud Beach visitors. It is covered by a large waterproof shade sail for al-fresco dining guests. The guest tables and chairs are all quality rattan furniture. There is also quality potted palms.
A parking area is located at the front of the hotel main fence and suits up to 5-6 vehicles.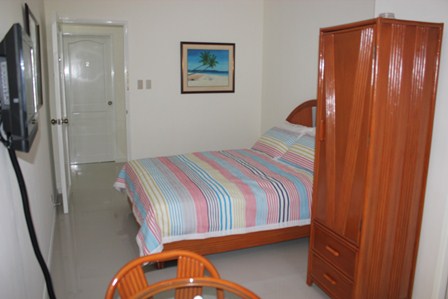 About the Owners Residence
On the hill just above the hotel building and accessed by staircase is a modern 3 double bedroom home with shower and toilet and kitchen/dining area. For use either as a residence or a group rental it offers an owner great living standards or extra income opportunity. The house is built to the same high standards as the hotel. The hill is terraced to environmentally capture water in heavy rain and also to grow our kitchen herbs.

About the Laundry and Public Amenities Building
At the rear of the main hotel building is the laundry and public amenities building. This building comprises two toilets (men and women), a laundry with sink and washing machine, and a storage room (with switchboard). The three stainless steel water tanks and the water system pressure pump are located behind the building. The new deep water well is also located here.

About Other Special Features
This Pagudpud Hotel for Sale also includes a very successful website. Our website attracts 350-500 people a day and 80% of hotel guests book online, both local Philippine and International. The remainder of bookings comprise walk-in guests. We are top rated by TripAdvisor. and are top 10 Award Winner in 2013

Building Details and Energy Saving Features
The hotel is constructed using reinforced solid concrete construction for strength in all conditions including earthquakes and strong typhoons.
We installed an efficient water system. Local town water supply and pressure is relatively unreliable and so we harvest all rainwater directly to stainless steel water tanks that overflow to our new well at the rear of the hotel and one at the front. Town water is still available to the hotel as required. This provides plenty of pressurised clean water and also recharges the underground aquifer in heavy rain periods. In addition it reduces storm water runoff to a minimum as there is no public water drainage system. Due to the low local water pressure the hotel has its own pressure pump.
We installed a white roof on all buildings that reflects a large amount of sun, and assists in keeping the hotel cool. Under the roof we also installed high quality insulation to further reduce heating effects from sun. We also installed two rotating vents that were imported, to further reduce roof space heat and ensure that cooler hotel temperatures reduces the need for long term use of air conditioning. 
Pagudpud Hotel for Sale - Other Details
The hotel is built on two adjoining blocks with clear title. The hotel would be offered only on a cash sale basis and would include all stock at value. A full inventory will be supplied to any serious inquirer. Please don't contact us and just ask us how much, as we will not respond. Any serious and credible proposals will be considered if genuine.   Pagudpud Hotel for Sale to the right person. Pagudpud Real Estate is still available.