Kapuluan Vista Resort
The Kapuluan Vista Resort is perfectly located on the sea front at Sitio Baniaran, Barangay Balaoi however it is away from the relatively busy Blue Lagoon and is set back amongst the coconut groves. 
The first thing that distinguishes this resort is the simple, stylish and striking contemporary white architecture merged with Philippine thatched roof cultural elements.
Kapuluan Vista Resort also has a freshwater swimming pool, a lovely garden, and a restaurant and bar. They also pride themselves on very friendly and welcoming staff.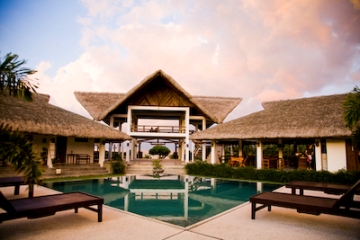 About the Kapuluan Vista Resort
The Kapuluan Vista Resort was awarded The Most Innovative Beach Resort in Northern Philippines and has been selected several times for being one of the top resorts in the Philippines.
The local surf and scenery has attracted the attention of mainstream international surfing publications that include Surf Magazine (US), Surfer's Path (UK), Kiwi Surf (New Zealand), Preview, Marie Claire, Cosmopolitan, Metro, Top Gear and television coverage on shows that include Sports Unlimited, Trip Na Trip, Mel and Joey, and MYX.
The food at the Kapuluan Vista Resort is highly regarded and they offer quality Filipino cuisine and Western fare. They feature fresh vegetables and herbs from the resorts organic garden, and use only high quality ingredients.
The clear waters are perfect for swimming, snorkeling, diving, windsurfing, and of course surfing. The surfing is good all year round and they offer lessons and board rentals.
Kapuluan Vista Resort also offer massage and reflexology services in your room or by the sea. They can arrange custom tours that include "banca" boat rides, waterfall tours, local markets and day tours to Pagudpud by van or tricycle.
Kapuluan Resort Room Rates and Details
Kapuluan Vista Resort have 10 rooms available for around 28 to 38 guests. All the guest rooms are very comfortable and reasonably priced, and they range from very inexpensive dormitory style accommodation to great value, first class private rooms, each with a loft and an en-suite bathroom. Rooms are air conditioned and have satellite television. CHECK WITH RESORT FOR CURRENT ROM RATES.
All rooms inclusive of welcome drinks and complimentary breakfasts.
Rates are subject to change without notice.

The Kapuluan Vista Resort 
The Kapuluan Vista Resort can arrange pick-ups for groups from Laoag City airport. So get ready for a post COVID vacation and this is one resort that you can really rejuvenate and refresh in. What are you waiting for? Contact Kapuluan Vista Resort today.
No room at this hotel and fully booked? Then why not try TARTARUGA'S and come stay with us.

Click on this link to go back and find out more about Pagudpud Vacations and all you need to know.  Kapuluan Vista Resort