Hotel Tiffany Laoag City
The Hotel Tiffany Laoag is one very popular place to stay and is very conveniently located in Gen. Segundo Avenue, on the corner of MH del Pilar St., Laoag City and this very centrally located right in the city where the action is. So whether you sight see, just want to stroll around and absorb the local atmosphere or have business to do, the location is everything you need.  When it is also supported by a rather unique restaurant with some really good food, then you have all that you need for a happy stay
You absolutely can't miss the bright color scheme outside with its bright pastel walls of purples, greens, oranges and yellows which is very art deco in appearance.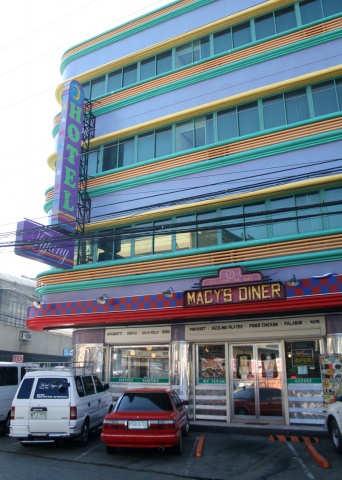 Hotel Tiffany Laoag City
They have 16 immaculate and comfortable rooms all with a television and CATV and air conditioning. Bath rooms have hot and cold water of course. The hotel gets very favorable reviews and is generally good value for money and affordable whether on business or pleasure or vacation stop on the way to Pagudpud with the extended family. 
The rooms are all painted in various bright pastel colors. When the pictures of the Beatles and Elvis and other sixties pop stars are taken into account it's all very psychedelic and 1960's. Even the blinds and blankets are purple and amazingly the whole art colour concept works. Great rooms mean great sleep and these are very comfortable rooms indeed.

Hotel Tiffany
The room rates are very reasonable but you need to contact them directly, which is very reasonable and affordable and in most cases a room can accommodate 4 people which makes it good value for groups and families. Check with them for the latest room rates when booking. The location is perfect for getting around Laoag City and makes sight seeing perfect as well as being central for business travellers and that's why we sometimes choose to stay here.
If you and your family are hungry, which you all will be,  then you can eat at the very 1970's American style Macy's Diner which is located on the ground floor and is a very popular eating house with a great atmosphere. See the restaurant section of this website for details. We recommend this restaurant as its something different and we really enjoyed it. 
Hotel Tiffany 
So if you are staying downtown Laoag then Hotel Tiffany is a great choice and plenty of other great Laoag Hotel destinations to choose from.