Hidden Treasure Resort
The Hidden Treasure Resort is in a perfect location and is located in Barangay Caparispisan in Pagupud and is called Hidden Treasure because it is well hidden. And offers economical accommodation for vacationers and travelers. 
Enjoy the white sands and warm waters of the South China Sea and have an economical holiday near Asia's best beach.
The area is a little distance away from Pagudpud and less commercial however its a special escape for a vacation by the sea. The access involves a fairly rough dirt road but worth it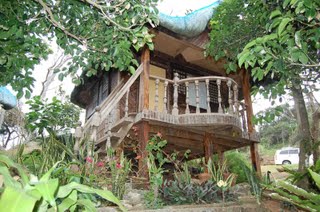 Hidden Treasure Resort
They have the following:
8 air conditioned rooms each with two double beds
4 Standard rooms 
They have a restaurant serving Ilocano food

Contact Hidden Treasure Resort
Contact Reynald and Lovella Garvida for room rates, room availability and more about staying there. 
No room at this hotel and fully booked? Then why not try TARTARUGA'S and come stay with us.


Hidden Treasure Resort
The district is located to the northwards of Bangui and its now famous windmills and inland lies the massive Cordillera Mountain Range, the largest mountain range in the Philippines. over the other side of the mountain range lies the province of Cagayan. To the North and the West are the warm waters of the South China Sea.
Foreign tourists are today becoming enormously interested and recently one of Australia's most well-thought-of and important international travel writers ranked Saud Beach as Number 1 on the list of the Top Ten best Asian Beaches. Come discover Pagudpud before the tourists find out.
The local area comprises really picturesque and almost deserted beaches, striking waterfalls, sensational scenic vistas, and a real genuine get away from the rat race feeling. It is no wonder that so many fashion photo shoots, international movies and many television commercials are filmed there. Just envisage a beach without too many tourists, no noisy jet skis, no strip of seedy bars and not even a McDonalds restaurant! Bliss!!!! No cheeseburgers in paradise here!
Pagudpud is situated amidst lush verdant mountains, luxuriant green valleys, lovely rolling hills and flat coastal plains with rice paddies. The 20,000 locals who dwell in Pagudpud and the surrounding region subsist on rice agriculture, general agriculture, fishing, and the fresh fish and lobsters are scrumptious and inexpensive here and more latterly tourism is increasing.
The most outstanding part about Pagudpud is the really charming people, get true Ilocano hospitality and friendliness, not only the most amazing beach in Asia but the friendliest place in Asia. Hidden Treasure Resort is somewhere different!
Ilocos Norte is synonymous with balmy tropical sunshine, sapphire blue skies; the most stunning turquoise blue and crystal clear water and effervescent white sands. Does it sound too good to be true? It truly is that beautiful! Click on this link to go back and find out more about Pagudpud Vacations and all you need to know, stay at Hidden Treasure Resort.