Fort Ilocandia
The Fort Ilocandia resort is located in La Paz, Laoag City on the coast within the 30km long La Paz Sand Dune area and is some 8 kms from Laoag City.
This is a Spanish and Moroccan inspired resort that has many attractions for guests. The resort comprises 280 spacious and luxurious rooms, and all have panoramic views of the Ilocandia resort.
Fort Ilocandia offer around the clock 24 hour services to guests. Many tourists come form Hong Kong, Taiwan and China stay to play at the many gaming tables at the casino and also play the Gary Player designed 18 hole golf course.
Fort Ilocandia Resort Hotel and Casino
The Fort Ilocandia resort offer first class dining from four restaurants and serve Chinese, Korean, Filipino, Cantonese, Japanese and Continental cuisine. The Courtyard Cafe has some mouth watering sweets and pastries.
You can also go Horse Riding, do a few laps in the swimming pool (there are three pools and one is Olympic size), practice at the driving range, take a hot air balloon ride, go shooting, play paintball, go fishing, or archery. Chill out on the private beach, play tennis or work out in the gym. There is a children's playground as well. For the Fort Ilocandia resort Book here.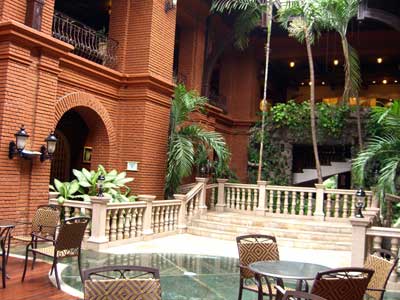 Fort Ilocandia Resort Hotel and Casino
The local district near the Fort Ilocandia resort comprises really picturesque and almost abandoned beaches, dramatic waterfalls, lovely scenic vistas, and a real genuine get away from the rat race feeling. It is no wonder that so many movies and television commercials are filmed there. envisage a beach without too many tourists, no noisy jet skis, no strip of bars and not even a McDonalds restaurant! Fort Ilocandia is worth a visit and a stay at Fort Ilocandia resort highly recommended. 
When you travel to Pagudpud, you will find it is located amongst lush verdant mountains, fertile valleys, rolling hills and flat coastal plains. The 20,000 local folk who stay in Pagudpud and the surrounding region  mainly subsist on rice agriculture, general farming and fishing. The fresh fish and lobsters straight off the banca are delectable and cheap here and more latterly tourism is growing.
Because Pagudpud is so uncommercialized there are limited places to stay and you need to book well ahead.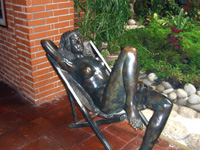 Fort Ilocandia Resort Hotel and Casino
The best part about Pagudpud is the excellent people, get genuine Ilocano hospitality and friendliness, not only the most amazing beach in Asia but the friendliest place in Asia.
Ilocos Norte is synonymous with warm tropical sunshine, indigo blue skies; the most beautiful turquoise blue and crystal clear water and effervescent white sands. Does it sound too good to be true? It truly is that attractive!
Click on this link to find out more about Pagudpud. All about Fort Ilocandia and Laoag Resort Hotels.