Dos Hermanos Island
Dos Hermanos Island lies in Barangay Balaoi. The islands are two identical mountains. Legend says long ago there were two brothers who were very close to each other. They had made a vow to remain together until death. A great story isn't it, all about loyalty.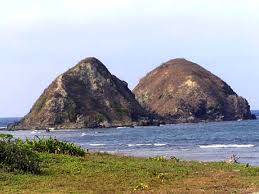 Dos Hermanos Island
Dos Hermanos Island
The story of Dos Hermanos Island is interesting.  There came a time that they were out fishing when they were caught out at sea by a powerful typhoon. They stayed together and drowned in the tempest and as a sign to all of their loyalty to each other they were transformed in death as two nearly identical cone shaped mountains that make up Dos Hermanos Island.
Below the Dos Hermanos Island rocks are caves where a diverse range of colorful tropical fish swim and these are best observed at low tide.
The Dos Hermanos Island rocks also have many submerged smaller rocks where famous and delicious gourmet seaweeds known as gamet are found during the rainy season.
The Dos Hermanos Island district is situated to the north of Bangui and its now renowned Bangui windmills and inland lies the massive and forbidding Cordillera Mountain Range, the largest mountain range in the Philippines. Just over the other side of the mountain range lies the province of Cagayan. To the North and the West are the inviting and warm waters of the South China Sea.
DOS HERMANOS ISLAND
A lot of foreign tourists are today becoming extremely interested and lately one of Australia's most well-thought-of and notable international travel writers ranked Saud Beach as Number 1 on the list of the Top Ten best Asian Beaches. Uncover Pagudpud and the Dos Hermanos Island before the tourists find out.
The local Dos Hermanos Island vicinity comprises genuinely beautiful and almost deserted beaches, dramatic waterfalls, very Instagrammable scenic vistas, and a real genuine get away from the rat race feeling. It is no wonder that so many movies and television commercials are filmed here. Imagine a beach without too many tourists, no noisy jet skis, no strip of bars and not even a McDonalds restaurant! Sounds like paradise to me.
Pagudpud is located amongst lush green mountains, luxuriant valleys, rolling hills and flat coastal plains. The 20,000 people who stay in Pagudpud and the surrounding area subsist mostly on rice farming, general farming and fishing. The fresh fish and lobsters are delicious and quite inexpensive here and more recently tourism is increasing.
Because Pagudpud is so uncommercialized there are limited places to stay and you need to book well ahead.
The most amazing element about Pagudpud is the wonderful authentic people. get genuine Ilocano hospitality and friendliness, not only the most outstanding beach in Asia but the possibly the friendliest place in Asia.
Ilocos Norte is synonymous with warm tropical sunshine, lazuline blue skies; the most attractive turquoise blue and crystal clear water and effervescent white sands. Does it sound too good to be true? It really is that gorgeous! Come to Dos Hermanos Island
Click on this link to find out more about Pagudpud. All About Philippines Vacations and all you need to know.