Visit Batac
Batac is the foundation place of many famous people that include the former Philippine president Ferdinand Marcos. It is the birthplace of Gregorio Aglipay, the founder of the Philippine Independent Church, also known as the Aglipayan Church, and also to General Artemio Ricarte, often known as the father of the Philippine Army.
It is also well known for being the home of the Mariano Marcos State University (MMSU). The town was founded by the Augustinians in 1587 under the patronage of the Immaculate Conception
It is also home to the tourist attraction Marcos Mansion and Mausoleum where the glass-encased and embalmed body of Ferdinand E. Marcos used to lie in state on a mattress in an air-conditioned, dark and somber room but no longer.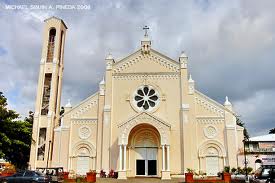 About Batac
One of the major industries in the area is farming, and agricultural products include garlic, tomato, corn, mangoes, tobacco and cotton. Garlic farmers in the province have now started to shift to the planting of other crops, mainly corn, as the unchecked and open importation of garlic from Taiwan had driven prices down to below profitable levels thanks to the WTO. It used to be a billion-peso industry in Ilocos Norte and is now fast approaching a backyard enterprise.
It is tragic of course and is similar to the tomato growers in the region being unable to compete with Chinese growers. If you need reasons not to buy the cheaper imported garlic, the Ilocos White garlic is much tastier, with a much fuller aroma. The famous pinakbet of Ilocos is incomplete without the local garlic's green tops.
The local garlic, particularly the Ilocos White, is rich in calcium, phosphorus, and potassium. The local garlic is said to contain antibiotic substances that inhibit the growth of certain bacteria and fungi. Garlic is used to treat wounds, toothache, epilepsy, and fungal skin diseases. Support your local growers, do not buy imports from China or Taiwan!
THE  BATAC-EMPANADA
On the City Charter Day each 23rd of June they stage the Empanada Festival which is one of the most famous food items. The main features are the Float and Street Dance Parade and Dance Drama Showdown. It also features contests on the preparation, cooking and eating of the Empanada and a great fireworks display. Head to Riverside where the best empanada and miki (a thick chicken noodle soup) is. You can also savour balut, fried squid, fried quail eggs, and more.
STAYING IN TOWN
Sunrise Lodge, Brgy. 35 Billoca
Villa Floago Inn, Brgy. 17 Tabug
Midtown Lodge, Arellano Street
Click on this link to find out more about Ilocos Norte and Pagudpud and Visit Batac