The Bangui Windmills
Why are there Bangui Windmills? Because Ilocos Norte Province tends to have more wind than many other provinces due to its location between the South China Sea and the Pacific Ocean so is perfect for making electricity from the wind.

They get regular and fresh North Westerly winds that make it a great location for wind energy generation. That is why Bangui is the ideal wind generator location.
The location of the Bangui windmills in the Philippines near the Asia-Pacific monsoon belt makes it an ideal and economically viable place for wind turbines installation.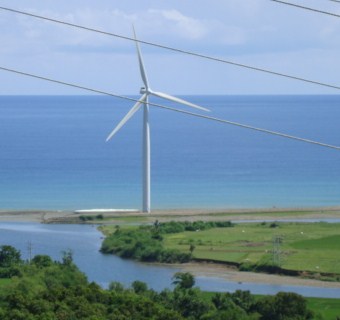 ---
About the Bangui Windmills
The Bangui windmills wind farm project was started with an aid grant of $48 million dollars from the Danish Government to Ilocos Norte Province in 1998.
Initially this was for 19 very large turbines spaced 236 meters apart and currently this is expanding to 49. Current electrical power production is around 25 megawatts and contributes nearly 40% of the provinces electrical power.
All About the Bangui Windmills
The Bangui Windmills wind farm is recognized as the largest in Southeast Asia and sells power Ilocos Norte Electric Cooperative (INEC). The expected life span of the wind generation equipment is 21 years.
The Northwind Bangui Bay Project estimates that 56,788 tons of CO2 (tons of carbon dioxide equivalent) of greenhouse gases will be reduced per year for the duration of the project activity. That's 1.2 million tons of CO2!
This gives Ilocos Norte when combined with hydro-electric power generation, one of the lowest carbon emission footprints in Asia and certainly within developed or developing countries.
The Bangui windmills towers are an impressive 60 meters high and are located just 10 meters from the sea edge. Each wind turbine is capable of producing electricity up to a maximum capacity of 1.65MW. Believe it or not the latest generation turbines can produce up to 14 MW.
All About the Bangui Windmills
The Bangui windmills turbines have three vertically oriented rotor blades on top of a 50 metre high tubular tower. The nacelle (or casing), which encloses the generator, the gear box and the yaw mechanism (which turns the blades into the wind), is at the rear of the rotor blades. Each wind turbine has a 6-meter diameter base.
You can also visit and look at the Bangui windmills and have a cold drink or hot coffee at the Kang Kang café there and be hypnotized as the graceful blades slowly rotate. Come see why Bangui is one of the Philippines leading centers for sustainable energy. They are connected to the Luzon grid and supply an estimated 40% of the electricity in Ilocos Norte. One more sight to see around Pagudpud and the Bangui Windmills.