Visit Burgos
WHAT TO SEE
Burgos is most famous for its lighthouse and also its gamet industry, but there are a few other places to visit when passing through and the Bulu river isn't that far away as is the Suacan Mineral Spring
You can visit the Church of St. Lawrence the Martyr. This was originally burnt by rebels in 1660, then suffered damage during the 1880 and 1891 earthquakes and its façade was then totally destroyed during the Japanese occupation and then restored.
The church was also damaged during the September 7, 1983 earthquake. So it survives in spite of the forces sent against it. The convent originally built in stone and wood in 1829, was entirely rebuilt in brick and stone in 1877.
Visit Burgos
The Church of San Jose Ruins, in Sitio Garadugod, Brgy. Taguipuro, was the site of the Bambang mission.
The American-era Mata-Garvida House, was built in 1923, and was used as a military garrison during the Japanese occupation.
The scenic two-tiered Abang Falls, in Brgy. Abang is located 2 kms. from the national road.
The Saoit Coral Formations (Brgy. Saoit)
The Tanap Rapids (Brgy. Tanap).
BURGOS AND GAMET
Burgos is renowned for its gamet or seaweeds, and the town has a Gamet Festival, usually in December. The local seaweed is regarded as a gourmet delicacy and exported to Japan and other countries. There is even a Guinness Book of World Record for the longest display of dried gamet.
Gamet is also called nori in Japan, and the gamet is also used in Ilocano salads, omelets and soup dishes. The gamet isn't cheap and is worth around 40 pesos a piece. (P300 per square foot). Fresh and dried seaweeds are sold locally in the various public markets, including the largest at Laoag City.
What is gamet? You may ask! Gamet is actually processed from porphyra, which is a red seaweed that is very abundant in the coastal waters in the months November to March.
Those that gather gamet take some considerable risks and getting this sea delicacy is not so easy. The gatherers require agility and a knowledge of local sea conditions. The rocks and crevices where gamet is found are both slippery and uneven and a single slip can mean a fall and serious injury and death especially when a larger wave catches the gatherers.
The gamet gatherer must understand the wave patterns and timing is everything, as the wave recedes they must race forward, extract the gamet and retreat to safety before the next wave crashes on the rocks. Watching the gatherers is almost a tourist attraction in itself as they nimbly jump around the rock ledges.
Literally hundreds of local families are dependent on gathering gamet as their primary source of income along with drying and processing the wild porphyra.
The gamet or red seaweed is found in other coastal areas also however the local gamet is said acknowledged as the best and is often called black gold and this is because the local waters are pristine and pollution free and the gamet has a distinct scent
VISIT LOCAL CAANGRIAN or KAANGRIAN FALLS BURGOS
The Kaangrian Falls are a local site worth visiting, and are situated 5 kms from the town and you park your vehicle at the trail head and its a very scenic hike of 4 kms to these lovely falls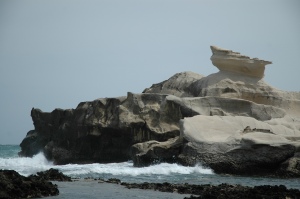 VISIT LOCAL CAPURPURAOAN (Kapurpurawan) ROCKS
The Capurpuraoan Rocks which translates and also they are known as the White Rocks have been eroded and carved over thousands of years. These very large and dazzling white mounds are made from coral that rises out of the sea. These almost surreal rocks area common site for photo shoots. Visit Burgos