BED AND BREAKFAST PHILIPPINES
Looking for About Bed and Breakfast Philippines in the Philippines the best way to stay in this wonderful country. They make a very good alternative to hotels and they are truly a great way to meet people.
BED AND BREAKFAST PHILIPPINES - MANILA
Casa Joaquin B&B 116 Caliraya Drive, Marian Park Subdv, Paranaque City, Metro Manila Philippines . Casa Joaquin Bed and Breakfast is a cozy getaway located in Paranaque City, Metro Manila. It is just twenty minutes from the new International Airport, twenty minutes from the Makati Commercial Center and even closer to Fort Bonifacio, the Global City, in Taguig, Metro Manila. 116 Caliraya Drive, tel: 1-562-929-7669; tel: 011-632 823 2735; cel: 011-63-915-338-2461 Email email: njoaquin@aol.com. About Bed and Breakfast Philippines for a great way to sleep.
Casa Malagar 401 Tower 1 Bayview Internatio, Paranaque 1700 Philippines . Website www.casamalagarsite.com/  
Rodello's Bed and Breakfast 126 Armstrong Ave., Moonwalk Phase 1, Paranaque City Philippines. Tel. No. (63 2) 776-9576; E-Mail: bnb@rodellos.com; 
Villa Carmelita 500 Aragona Street, Cittadella, CAA Road, Las Piñas 1742 Philippines. For Bed & Breakfast accommodation within 15 minutes drive of Ninoy Aquino International Airport, you can be sure of a pleasant stay with us at Villa Carmelita, our comfortable modern family home, situated in a quiet and secure executive subdivision off Casimiro/Aguilar Avenues. First class facilities, and a car available to meet you at (or take you to) the airport if required Telephone (RP): +63 9156007761 or +63 22578420. About Bed and Breakfast Philippines
Christine's Guest House 561 Rainbow St. Gatchalian Sub, Las Pinas Philippine Our new guesthouse is located right after the boundary of Parañaque and Las Piñas. It is just 10-15 mins away from the Manila International Airport (NAIA). We are in a quiet, secured and peaceful residential area and accessible at SM Sucat Supermaket (the biggest Shopping Mall chain in the country), Banks (PCIB, Metrobank, Prudential, Allied), Foreign Exchange Dealers, Wet Market, and Shops for your daily needs. Website http://www.cghouse.de/ Telephone - +63 2 8204983
The Stonehouse Bed and Breakfast Welcome to the Stonehouse Hotel, a budget hotel in Quezon City that offers truly comfortable accommodations! The 54-room Stonehouse Hotel combines excellent Quezon City hotel location with classic room amenities, complete facilities, and warm Filipino hospitality, promising you unrivalled convenience and class. Experience the warm and welcoming Stonehouse Hotel in Quezon City today. 1315 E. Rodriguez Ave. Barangay Kristong Hari, Quezon City, Philippines; Tel. No.: +632) 7247551 / (+632) 7247558 / (+632) 7214672 Fax No.: (+632) 4142798; Email: stonehouse_apt@yahoo.com Try this About Bed and Breakfast Philippines place.
Park, Bed and Breakfast Pasay City, Philippines. Park, Bed and Breakfast in Pasay carries the distinction of being the first true motorist hotel in the Philippines. True to our brand, we offer services you won't find in other Pasay hotels. These include car care and travel assistance. Taking good care of your car is just part of the package. We also offer comfortable accommodation and equally convenient amenities at reasonable prices. 733 Woods Street corner EDSA, Pasay City, Philippines, Phone Number: 632 702.2700 to 04 and 0917.7022700; Fax Number: 632 638 9255 and 632 702 2780; E-mail: customercare@legendhotels.com.ph Perfect Manila and Bed and Breakfast Philippines
Urban Mala Residence Bed and Breakfast We offer you the best Bed & Breakfast Accomodation here in the Philippines. Vacation at it's best! UrbanMala Residence is a family owned business. Providing excellent customer care is our primary management goal. We have better personalized services than larger hotel chains . We are dedicated to provide quality accommodations and TWENTY-FOUR-hour staff services. Our place is an oasis to travellers. We offer a very private place with clean, elegant and affordable rooms. We provide full amenities catering to your needs and comfort. We have 24-hour security. Our location is very accessible from Ninoy Aquino International Airport (NAIA) former Manila International Airport (MIA) and close to major shopping centers and tourist sites in the city. 2002-T1 Bayview International Towers Roxas Blvd., Tambo, Paranaque City, Philippines Email - reservation_urbanmala@ixomsoft.com Tel +632 855 7972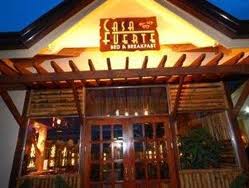 BED AND BREAKFAST PHILIPPINES -

TAGAYTAY
Fat Bill's Bed and Breakfast the pinnacle of rest and convenience in this haven that's moments away from the busy metropolis. At our exclusive sanctuary in Tagaytay City, the Double and Family Rooms are made to relieve you of any worry. These are furnished with simple yet modern indulgences, such as a remote-control TV and DVD player, and their bathroom has a hot and cold shower. Furthermore, you can savor scrumptious British, Tex-Mex, and Filipino dishes at our restaurant while enjoying the view of Taal Volcano. Guest privileges, includingroom service, guarantee more restful moments. These perks and more make Fat Bill's Bed and Breakfast Tagaytay's prime vacation destination. Phone Number: (046) 483 0276; Cellphone Numbers: (+63) 09228766135 - (+63) 09228798662; E-mail: fatbillsbedandbreakfast@gmail.com
Casa de Carlo Bed & Breakfast Casa de Carlo is strategically located in the heart of Tagaytay, far from the busy streets, noise and inconveniences daily life brings. A Special Private Escape for the family and love ones. Discover Relaxation, Nature and Quality that the Hacienda gives. About Bed and Breakfast Philippines
Sonya's Garden Bed and Breakfast All the Bed and Breakfast cottages are named after herbs, which, like her garden, reflect Sonya's love for aromatic things. Inspired by her simple country lifestyle, the Bed and Breakfast facility was born out of insistent pleas from guests to stay awhile longer in Sonya's private sanctuary. In the short time that it has been open to the public, many have already vowed to return for a myriad of simple joys, like waking up to the smell of flowers, languishing in bed from last night's soothing massage, contemplating in the undisturbed solitude that surrounds each cottage, relaxing by the charming bay windows that opens into a view of nature in its entire splendor, the warm hospitality of Sonya and her staff—and other delightful discoveries that has made a stay at the B&B a unique experience for every person. Barangay Buck Estate, Alfonso, Cavite, Philippines (near the vicinity of Tagaytay City, Philippines)For reservations: call or text +63-9175329097 or +63-9175335140 Email us at: info@sonyasgarden.com One famous Bed and Breakfast Philippines place

BED AND BREAKFAST PHILIPPINES - BOHOL
Dao Diamond Bed and Breakfast While you are away from home, we'll provide you with the best service possible when you stay in Bohol. With our warm and friendly Boholano Hospitality, your sure to enjoy you're stay with us. Our Hotel specializees in medium size live-in seminars, student study-tours, as well as individual local and international tourist accommodations. Dao Diamond is know for its high standards. We are also a Deaf friendly Bohol hotel, and offer Deaf friendly tours. All of our tour operators and employees are required to know sign language. With pride and honor, Dao Diamond Bed and Breakfast is owned byInternational Deaf Education Association (IDEA) Philippines. 100% of the profits from this hotel benefits the deaf children of Bohol. This means that when you book a room with us, you are helping deaf children get quality education, training and support. Phone: (63)(38) 411-5568; (63)(38) 235-5836; (63)(38) 501-8890; (63)(38) 411-5568; Fax: (63)(38) 411-5568; E-mail: daodiamond@hotmail.com. Well worth a listing about Bed and Breakfast Philippines
Laguna Bed & Breakfast located in Laguna, Las Salinas Sur in Loay, only 30 minutes from Tagbilaran, the capital of Bohol. It is the gateway to the Loay-Loboc River and the famous river cruise, a close encounter with the tarsiers- the smallest primate in the world, the man-made forest, the amazing Chocolate Hills, and the beautiful Bohol countryside. Other nice surprises await you at the beautiful country setting of Laguna Bed & Breakfast, the perfect home base for your planned Bohol vacation and island tour. Landline: 011 (63) 38 538-9525 / Cell/Text: 0929 499-5099E-mail address: admin@boholbnb.com
The Gabriella Bed & Breakfast Thinking of visiting the Wonderful Paradise Island of Bohol, Philippines? The Gabriella offers hotel-quality Bed & Breakfast accommodation to foreign guests and local travelers. It is the best place to stay while exploring the beautiful Island of Bohol. We offer reasonable rates and competitive Tour Packages that cater to the needs and interests of our guests. "The Gabriella Bed & Breakfast is situated at a very cozy place surrounded by green trees and fresh air, a perfect place to relax and breathe after a very tiring day. It is designed to give a home-made-comfort and satisfaction thus making visitors feel at home. Catillo St. Dao District, Tagbilaran City, Bohol. Telephone No. +63 (038) 412- 7096. Mobile:+63 (920) 672-1630 / +63 (910) 707 – 6968. E-mail Address - info@thegabriellabohol.com About Bed and Breakfast Philippines
The Cove House (Panglao) In a tropical paradise where the sea meets the sky, The Cove House sits in a peaceful nook waiting for you to come inside. The Cove House can assist guests if they want to see scenic Bohol. Visit Blood Compact monument, Baclayon Church, Chocolate Hills, Clarin Ancestral House,Tarsiers, or Loboc River Cruise.Panglao has some of the best beaches in the Philippines. We will assist guests if they want to go Dolphin Watching, Snorkelling or DivingDas-ag Panglao, Bohol. Contact Numbers; 0063-38-5028311; 09156590715; Email - thecovehouse@gmail.com About Bed and Breakfast Philippines
Amorita Resort Bohol Ester A. Lim Drive Alona Beach Barangay Tawala Panglao, Bohol, Philippine. Discover all that Bohol has to offer with Amorita Resort as a base. The Amorita Resort boasts a convenient location with modern amenities in every guestroom and superb service. In-room facilities include air conditioning, hair dryer, internet access (wireless), in room safe, television LCD/plasma screen, shower. Hotel facilities offered at this Bohol accommodation include shops, bar/pub, laundry service/dry cleaning, meeting facilities , restaurant. Leisure and sports facilities available on the hotel's property comprise massage, outdoor pool , garden. Along with its convenient location in Bohol, the hotel also offers a wide range of services and facilities to the guests. Tel Nos. +63 38 502-9001 to 03 Fax No. +63 38 502-900 bout Bed and Breakfast Philippines

BAGUIO BED and BREAKFAST
Baguio City is located some 1,500 meters above sea level, nestled within the Cordillera Central mountain range in northern Luzon. The city is known for its mild climate. It is because of this that Baguio is nicknamed the "Summer Capital of the Philippines" About Bed and Breakfast Philippines is suitable way to stay here.
OUR PLACE BED & BREAKFAST 107 Quezon Hill Road 2, Baguio. Situated in one of Baguio's spacious and wooded prime properties, accommodations include three bedrooms (soon to be four), two toilet and bath with shower heaters, sala with fireplace, dining/kitchen with complete eating utensils, dirty kitchen with basic cooking utensils including 2-burner stove. Enjoy the cozy pine wood interiors and spacious garden or hike around Quezon Hill. And as evening comes, watch the sun set over Mt. Santo Tomas. Ample parking space is provided however, public transportation is readily available. Downtown Baguio is 10 minutes away, so stay at this Bed and Breakfast Philippines
PNKY BED and BREAKFAST 13 Leonard Wood Road, Baguio City, We are a 4-room Bed & Breakfast that offers guests a "cozy home away from home" . We want them to enjoy their stay in Baguio in such a way that when they leave, plans are already being made to return! We want guests to bring home with them happy memories of a relaxing and enjoyable Baguio visit! We want them to love Baguio! About Bed and Breakfast PhilippinesTel 63 74 446 7094 and 63 74 444 6418. /
ATENARA HOUSE and BREAKFAST Our inn offers the best combination -- the ambience of a bed & breakfast with the professional service of an upscale hotel. We are conveniently located between Baguio's prime tourist attractions and the city's commercial district, making ours an ideal location for business & leisure travellers alike. We offer our guests exceptional, personalized service. Atenara House has a variety of lodging accommodations: from twin share rooms with private baths to 3-bedroom family suites to economy bed spaces. It is also an excellent venue for parties and seminars and family dinners. Our kitchen serves up anywhere from home-cooked meals to luxury buffets to garden banquets by prior special reservations. 40 Navy (C.M. Recto) Road, Saint Joseph Bgy 2600, Baguio City, Philippines. Phone: 63 (74) 446-9808; Mobile: 63 (933) 365-7352(sun cellular); Email: atenarahouse@gmail.com
BORACAY BED and BREAKFAST
The Lazy Dog Bed and Breakfast We offer comfortable and cozy accommodations on the more quiet and laid back side of the Island. We can provide ideal accommodations for enthusiastic kite and wind surfers, as we are walking distance from Bulabog Beach, voted one of the top kitesurfing destinations in South East Asia, and 10 minutes away from the famous White Beach. This is the best Boracay deal you can ever find, especially suited for kitesurfing and windsurfing enthusiasts, family, or individual professionals. Mobile: +63 920 945 4845 Tel/Fax: (036) 288 4128 Email: thelazydogboracay@yahoo.com Highly commended Bed and Breakfast Philippines
Tonglen Beach Resort Tonglen Beach Resort Boracay Manggayad Boracay Aklan. Tonglen Beach Resort is a place to come and enjoy the pleasure of Boracay, with its world famous four kilometer long wide beach, it has been described as heaven by the visitors to the beautiful island. Since 1987, Tonglen has been known as a place of natural comfort and pure tranquility, along with having the best service on Boracay it has a blend of European efficiency and traditional Philippine hospitality. Tonglen offers top class accommodation along with superb facilities such as a swimming pool, restaurant, conference room and the beautiful tropical gardens. Scuba diving in the coral gardens, windsurfing, fishing and many other leisure activities can be arranged by the staff of Tonglen. You really will find no other place like this, its exceptional odd, amazing beaches, tropical views, glorious sunsets and gracious Philippine custom you can guaranteed an experience never to be forgotten. About Bed and Breakfast PhilippinesTel: (6336) 288 3457 or 5190; Fax: (6336) 288 3919Website. Email: tonglenresort@yahoo.com

PALAWAN BED and BREAKFAST
Casa Fuerte is a Bali inspired inn in Puerto Princesa City. This budget inn is complete with basic amenities such as air-conditioned rooms with private toilet & bath, hot and cold shower, cable TV and wireless internet access. Being is merely 10 minutes away from the airport and around 5 minutes from the city center, the inn is not just accessible to all city convenience but a great, super low-priced place to stay while you explore the exciting adventures this side of Palawan has to offer. Telephone 032 412 5931 or 032 412 7321. All about Palawan and Bed and Breakfast Philippines
Kalamayan Inn Located Coron Town on Busuanga Island. A family operated Bed & Breakfast located in Coron Town on Busuanga Island in the Province of Palawan, Philippines. We are located some 300 kilometers South of the smog of Metro Manila and 310 kilometers North of Puerto Princessa. The province of Palawan is one of the largest in the Philippines and includes almost 2,000 islands. We are in the very Northern section of the province and a long way from the main island of Palawan. We provide "home style" accommodation for Tourists, Eco-tourists, Scuba Divers, Adventure Vacationers, visiting Yachtsmen and Business Travelers. We offer "package tours" which include domestic transportation & day activities such as diving, sea kayaking, exploring, fishing, and Calauit Island Safaris. Visit our links page for related links and more information about Palawan and the Philippines. The "Tourist Trap Bar & Restaurant" offers seriously cold beer and the best hamburgers South of Manila. Address - corner Don Pedro & St Augustin Coron Tel 63-2-633-4701; FAX: 63-2-633-4855; Email – kalmayan@mozcom.com 

SUBIC BAY BED and BREAKFAST
Binictican Bed & Breakfast 18 2nd Street Binictican Heigh, Subic Bay 2222 Philippines . Welcome to the only budget home stay option in picturesque Subic Bay; the Philippines tax-free tourist and investment zone. If you are seeking a lower-priced alternative to an expensive hotel room, a stay in our house is just what you need. Nestled in the leafy residential area of Binictican Heights, our converted 1950's ex-Navy house has been fully renovated with the comforts of a modern home just a few minutes drive from downtown or the beach. E-mail : info@subicbayhomestay.com - 

CATANDUANES BED and BREAKFAST
Angie's Bed & Breakfast located at the top of Puraran Beach, Baras, Catanduanes Philippines and situated on 700 sq. meters of land amid green tropical trees facing the Great Pacific waters. We provide our guests with an memorable experience while they are enjoying the Majestic Wave of Puraran Beach and the natural beauty of Catanduanes Island. Email - angiesbedandbreakfast@gmail.com  About Bed and Breakfast Philippines

LEYTE BED AND BREAKFAST HERE
Silago Tourist Inn, Southern Leyte HERE The Silago Tourist Inns is the only inn/hotel in the town of Silago, Southern Leyte. Airconditioned and fan rooms are available coupled with room services and other outdoor fun. the rates are very reasonable and the food is exotic. At Silago tourist inns, one can admire the beauty of Silago, Southern Leyte being a paradise coastal town that is unspoiled by the unnatural, water sports and adventures are available. Reservations at the Silago Tourist Inns can be done through the 24-hr telephone number +6327571537 and +6328823483.You can call this number and give out your details. For a quick quote and last minute reservations, you may call our Silago Tourist Inns hotlines +639152210065, +639278467190 or +639277225728. 1 TOWNCENTER, Silago 1212, Philippines Email; info@silago.biz,
Bed and Breakfast Philippines, the best way to travel.