Visit Bacarra
The small town of Bacarra has some popular tourist attractions including St. Andrew Church, Lazo Ancestral Home, Ruins of Vijia Watchtower, Municipal Hall, Municipal Park, Libtong-Teppang Irrigation Tunnel, Plaza, Addo Velasco, Velasco Pacifico and many other places of historical importance. There is a lot more to this town than meets the eye.
The Church was constructed by the Spanish Augustinian Friars in 1593. It was destroyed by a 7.8 magnitude earthquake on August 1983 and reconstructed. The image of the patron saint, San Andres stands in front of his x-shaped cross in the central niche.
What to See in Bacarra!
The Bell Tower with the unusual elongated cupola was built during the 1830's and is located at the right side of the Roman Catholic Church. It was built in 1830's and made up of coral blocks and stucco with an original height of fifty meters and a five meter-thick wall. An earthquake destroyed it in 1931, and this caused the top most portions to tilt a little sideward on the right. It once called the Leaning Tower!
The tower was built away from the church similar to other churches in the region, to reduce the damage in case the tower comes crashing down in another major earthquake. This proved to be the case as the dome finally crumbled during the last big earth quake and you can still see the pile of grass-covered brick debris strewn around the side of the Tower.
The charming town hall is located nearby with its Filipino-Spanish-Mexican architectural finishes and deep blue paint.
Some of the cultural attractions are the Farmer's Festival, Natba Beach and Delta Tourism and the "Sabet" on Easter Sunday. The town also has some small hotels and guesthouses to accommodate the guests and tourists, so stop and stay.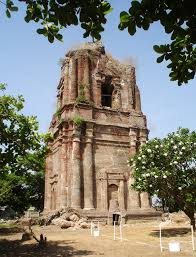 Stop and Visit Bacarra
Where is Pagudpud? On the main highway. Stop and have a look around. The drowsy rural coastal settlement of Pagudpud is situated on the most Northern tip of Luzon, in the Philippines and is about 50 miles up the seashore from Laoag City, the capital of Ilocos Norte province. It is also about 350 miles north of Manila, you may drive, catch a bus or take a flight to Laoag City.
Ilocos Norte is synonymous with warm tropical sunshine, azure blue skies; the most beautiful turquoise blue and crystal clear water and sparkling white sands. Does it sound too good to be true? It genuinely is that attractive! Visit Bacarra