Standard Class Ilocos Hotel
IF YOU WANT STANDARD CLASS ILOCOS HOTEL ACCOMMODATION
The following are well known standard hotels in Laoag City
PALAZZO DE LAOAG HOTEL
The Palazzo de Laoag Hotel is a 3-star hotel in accredited by Dept. Of Philippine Tourism. The hotel is located along Vintar Road amidst the rice fields at the northeastern part of Laoag City downtown. The hotel has a coffee shop, restaurant, disco, Videoke bar, fitness gym, parking space, and swimming pools. The hotel can accommodate up to 80 guests in 26 rooms. The rooms are decorated with indigenous woven cloth known as Abel Iloco. There is a KALESA Bar on the 4th floor, free internet wi-fi facility.
Address Baranagay 27, Paterrno St. Laoag City Ilocos Norte
Contact Person Mr. Manuel M. Ablan
Telephone 63 773-1856; 773-1842; 63 77-771-5717
Other Contact 09185599487; 773-1848 ; 773-1837
Website http://www.palazzodelaoaghotel.com/
Room Rates PHP 1,080.00 – PHP 1,800.00 and PHP 1,200.00 – PHP 1,980.00 and these are for Standard Rooms, Cabana, Executive Suite and Family Suite with all rates inclusive of breakfast make this a good standard class Ilocos hotel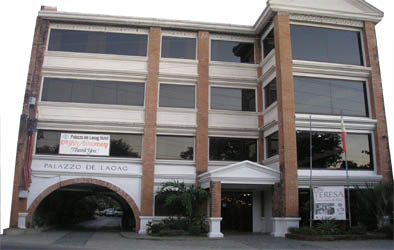 Ilocos Hotel - RENZO HOTEL
Location Rizal Street, corner of Guerrero st., Laoag City. The hotel is located beside a coffeeshop and a grocery store on the second floor. It is a very short walk to the small malls, fast food outlets and banks. Tricycles, jeepney rides for touring the city are already available beside and in front of the hotel.
The rooms have Hot & Cold Showers, Blow dryer. There is WiFi in the lobby and they also have a billiard table, nice lounge area and a small garden at the back. Other services include Massage Services, Hand & Foot Care, Fax Services Standby Generator, Hotel Transfer
Also they have welcome fruits, welcome drinks, mini bar, IDD/NDD Telephone Access, Cable TV, Radio & Alarm clock, Fully Air-conditioned 24hrs security, Free Wireless Internet access. There is a coffee Shop, Souvenir Shop, Function Hall, Coffee Shop & Bakery, Supermarket.
Room Types are Standard, De luxe Standard, Superior, Junior Suite, Suite A Suite B. 2 Children aged 12 years & below staying with parents are free of charge. Rates include daily breakfast.
Telephone +63 (077) 770-4898; +63 (077) 770-5288
Website http://laoagrenzohotel.tripod.com
Email laoagrenzohotel@yahoo.com

NORTHVIEW HOTEL
Location - Barangay 46 Nalvo, Airport Road, Laoag City
Telephone (6377) 773-1689 and 773-2440
Contact Person Mr. Sherwin S. Santiago
Hotel has 40 guest rooms and includes a Function room, Parking Area, Restaurant, Intercom, TV and Billiards

ISABEL SUITES
Location - Brgy. 11, Gen. Segundo Avenue, Laoag City
Telephone 077-7704998, 077-7711900 and 0921-7326452, 0917-6280319
Hotel has air conditioned rooms cable television, bathroom

CASA LLANES
Location - Llanes Street, Laoag City
Telephone (6377) 772-1125

HOTEL DEL NORTE
Location - 26 Fonacier Street, Laoag City
Telephone (6377) 772-1697
Hotel has 24 rooms and room rates are PHP 225.00 to P800.00 and this is a good standard class Ilocos hotel


Click on this link to find out more about Pagudpud. All About Philippines Vacations and all you need to know.