Hotel Tiffany Laoag City
The Hotel Tiffany Laoag is one very popular place to stay and is very conveniently located in Gen. Segundo Avenue, on the corner of MH del Pilar St., Laoag City and this very centrally located right in the city where the action is.
You absolutely can't miss the bright color scheme outside with its bright pastel walls of purples, greens, oranges and yellows which is very art deco in appearance.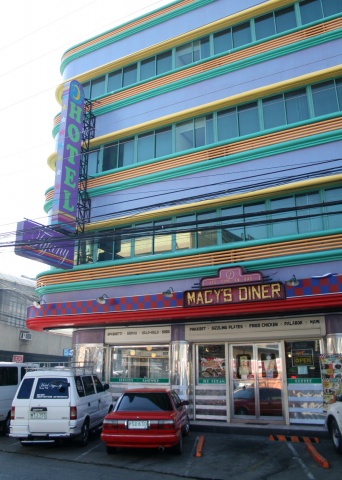 Hotel Tiffany Laoag City
They have 16 immaculate and comfortable rooms all with a television and CATV and air conditioning. Bath rooms have hot and cold water of course. The hotel gets very favorable reviews and is generally good value for money and affordable whether on business or pleasure or vacation stop on the way to Pagudpud with the extended family.
The rooms are all painted in various bright pastel colors. When the pictures of the Beatles and Elvis and other sixties pop stars are taken into account it's all very psychedelic and 1960's. Even the blinds and blankets are purple and amazingly the whole art colour concept works.

Hotel Tiffany
The room rates are in the USD$20 to $40 range, which is very reasonable and affordable and in most cases a room can accommodate 4 people which makes it good value for groups and families. The rates below are subject to 12% E-vat and 10% Service Charge, check with them for the latest room rates when booking. 
A single bed room will cost you around PHP630.00
A twin single bed room will cost you around PHP950.00
A queen size bed will cost you around PHP950.00
A queen bed and single bed family room will cost you around PHP1150.00
A queen bed and single bed junior suite with larger TV and refrigerator and dining table will cost you around PHP1360.00
If you and your family are hungry, which you all will be,  then you can eat at the very 1970's American style Macy's Diner which is located on the ground floor and is very popular eating house with a great atmosphere. See the restaurant section of this website for details.

Hotel Tiffany 
Telephone +63 77 770 3550
Globe: (0926) 6945-221
Smart (0928) 206-7257
Sun: (0923) 883-2441
Email tiffhotel@gmail.com
Come to Pagudpud and stay at TARTARUGA'S .
Click on this link to find out more about Pagudpud. All About Philippines Vacations and all you need to know.